How to create a summer capsule wardrobe that will help you look truly chic all summer long? Our wardrobe is a reflection of who we are, our lifestyle and constant investment in how we present ourselves to the world. In a world of social media, fast fashion and online shopping it can be easy to fall prey to having a closet full of clothes yet finding yourself with nothing to wear.
Before buying something new, it's important to know what you already have in your wardrobe. Are you wanting something new for newness sake or is there a real gap that you're filling? Being in touch with why you're shopping and what your wardrobe needs are the most important things in building a wardrobe that works. Are you shopping out of boredom? Try to shop consciously and with purpose. Make sure your new piece fits you and if not, consider whether an alteration is possible to ensure a great fit. Choose items that will work alongside existing pieces in your wardrobe ensuring you create endless outfit options.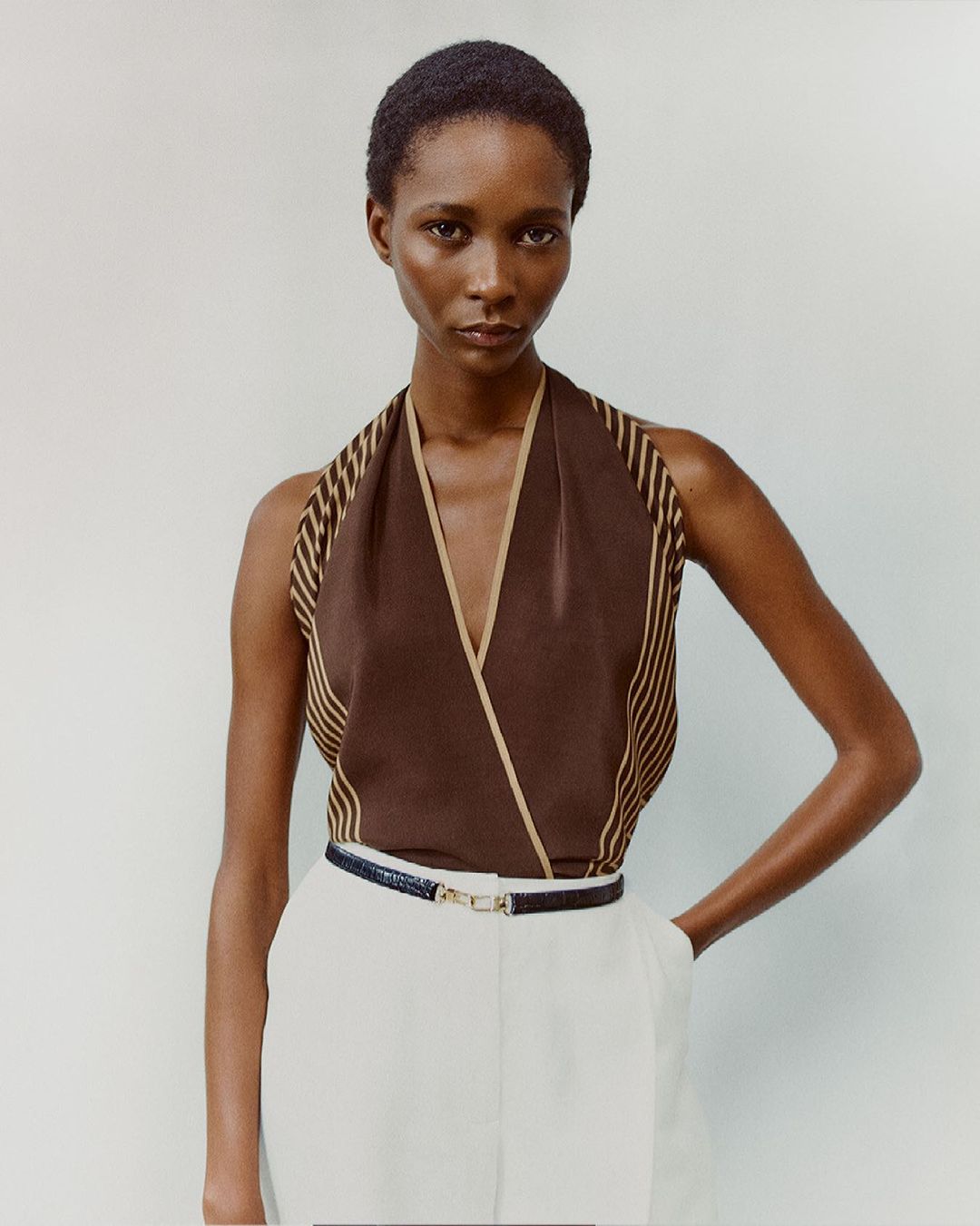 While it's no secret that this place is curated for the 'effortless minimalist', we believe that every wardrobe needs a few classics and we always like to invest in pieces that we know we will love and wear for seasons to come.
This coming summer it's all about giving a modern update to some of your true summer classics. From crisp cotton button-down shirts to luxe straw bags and chunkey sandals for doing errands around the city. We've put together this list of basic summer capsule pieces to make all the hard work easy, these are our ultimate wardrobe must-haves and the secret to always look effortless and chic. Yes, they are beautiful, but they are also practical – each one a starting point for what you're wearing every day.
1. Summer capsule must have: Perfect tank top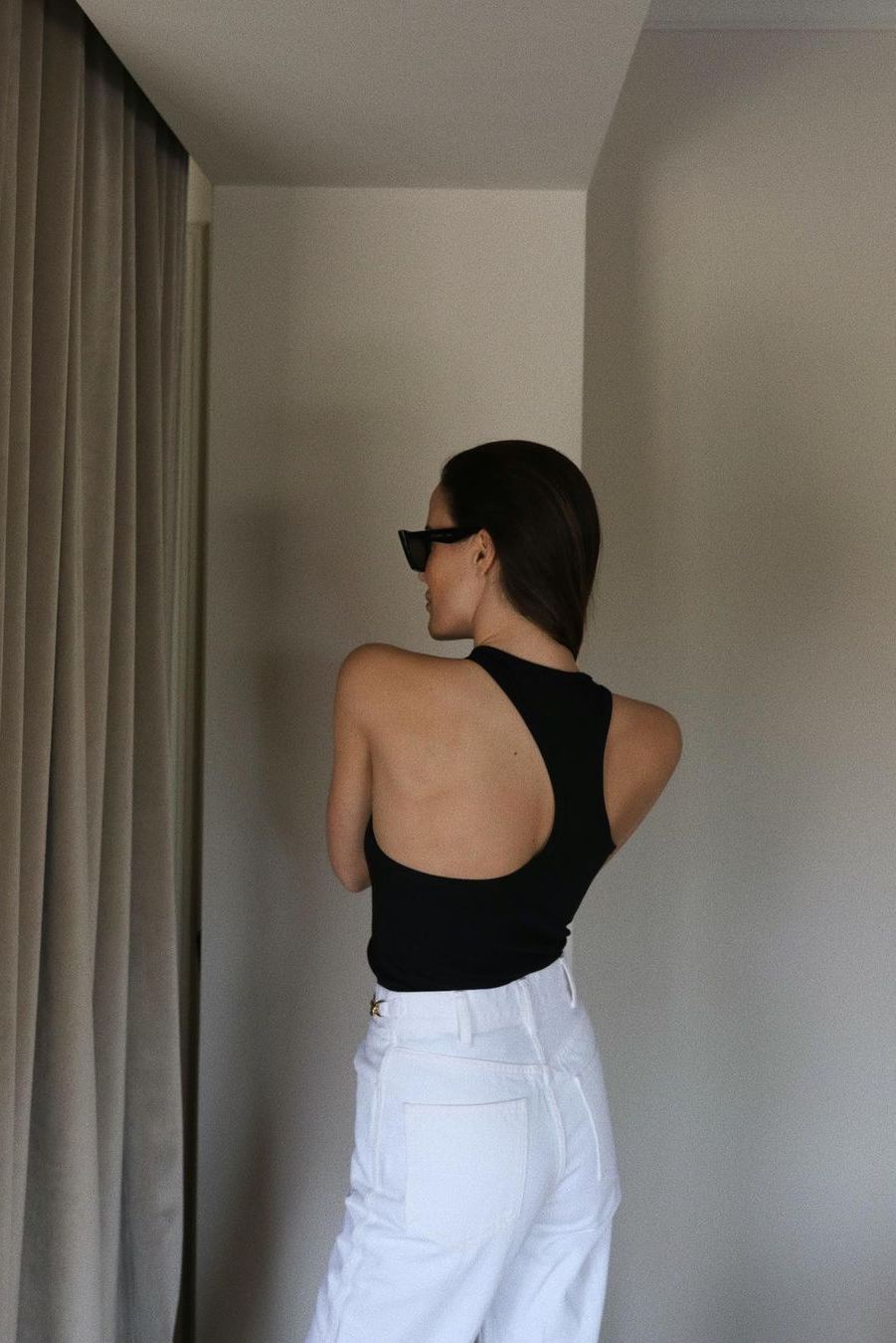 The original idea behind the capsule summer wardrobe is investing in pieces that are timeless. If there is any item that will never go out of fashion it is the classic tank top. With so many colors and cuts on the market keep it simple by reducing your selection to the magic white or black in a cut that suits your body type to ensure maximum wearability.
The one in the asymmetric cut is a statement on its own and perfect date-night pieces. Slip on a pair of jeans in the same color for a polished, monochromatic look. A classic red lip and simple bun will capture that effortless, evening mood.
2. Summer capsule basic: A simple slip dress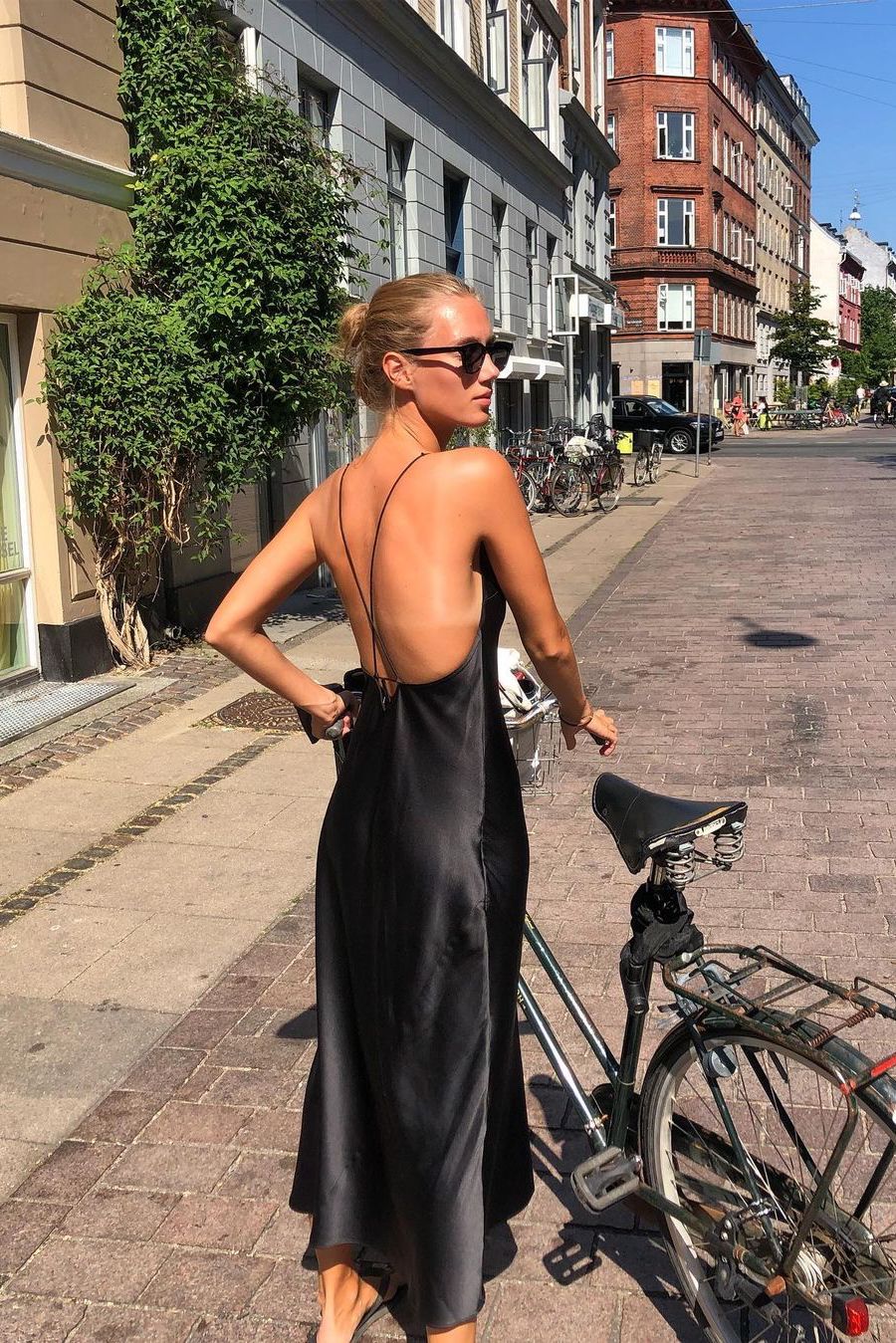 Designed with versatility in mind the effortless sleek slip dress is a statement when worn on its own or paired with layering wardrobe pieces.
Turn yours into a city summer staple by simply layering a crisp business-like shirt on top of your silk slip dress – you will be adding a utilitarian everyday vibe to an otherwise dressier piece. Finish with sleek sunnies, flip-flops and gold-tone jewelry for a look that's both effortless and elegant.
3. Summer capsule jeans: A straight leg jeans in ivory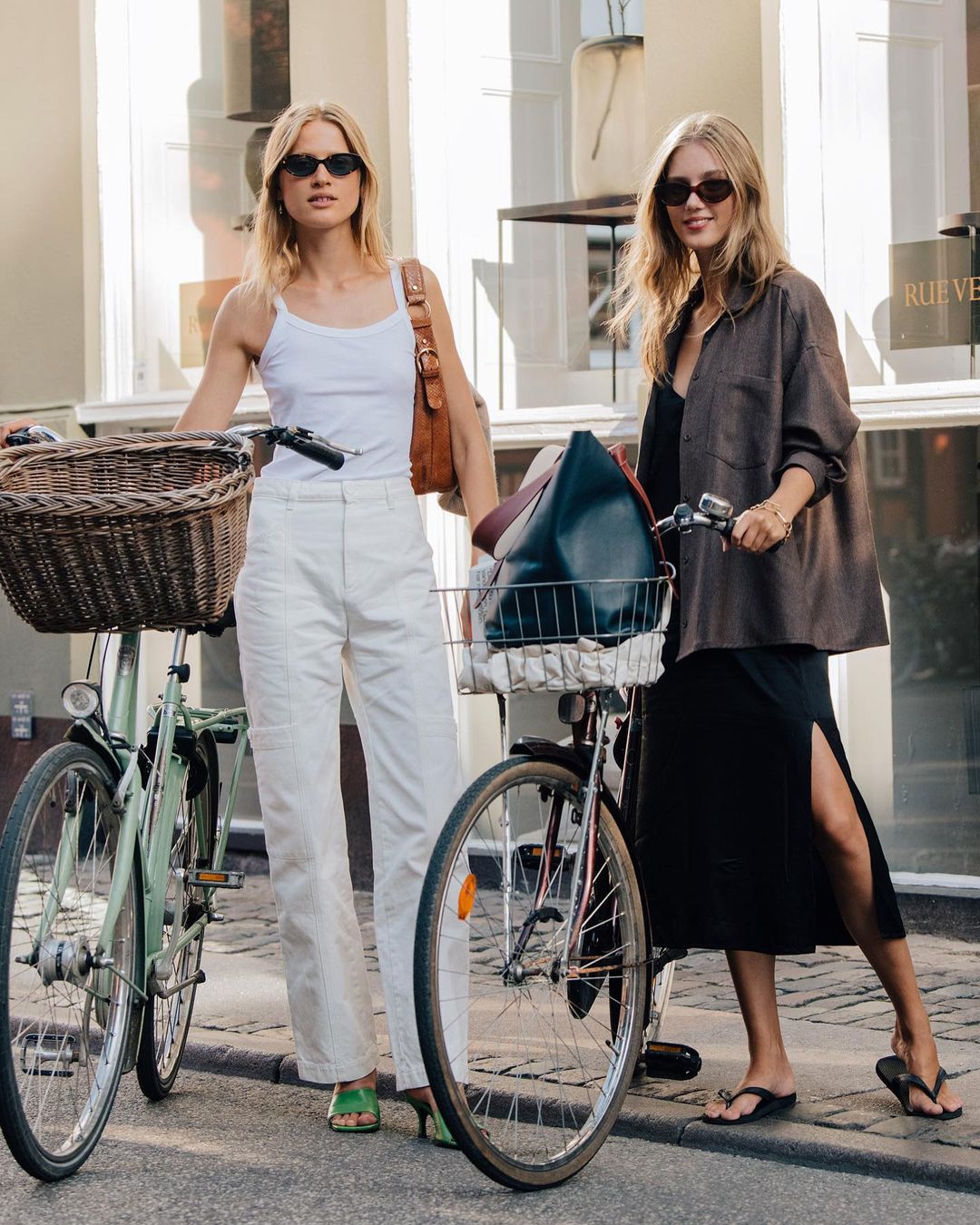 An effortless and endlessly wearable pair of jeans are a building block to any wardrobe. High-rise, straight-leg styles, which cinch the waist while elongating the legs are universally flattering. Cast in ivory denim, this throw-on-and-go piece becomes something infinitely more elevated and cool alternative to a smart, tailored pant. Pair it with a tailored vest to nail that day-to-night look; oversized sunglasses and strappy flat sandals are ideal finishing touches.
4. Summer capsule shoes: Flat chunky sandals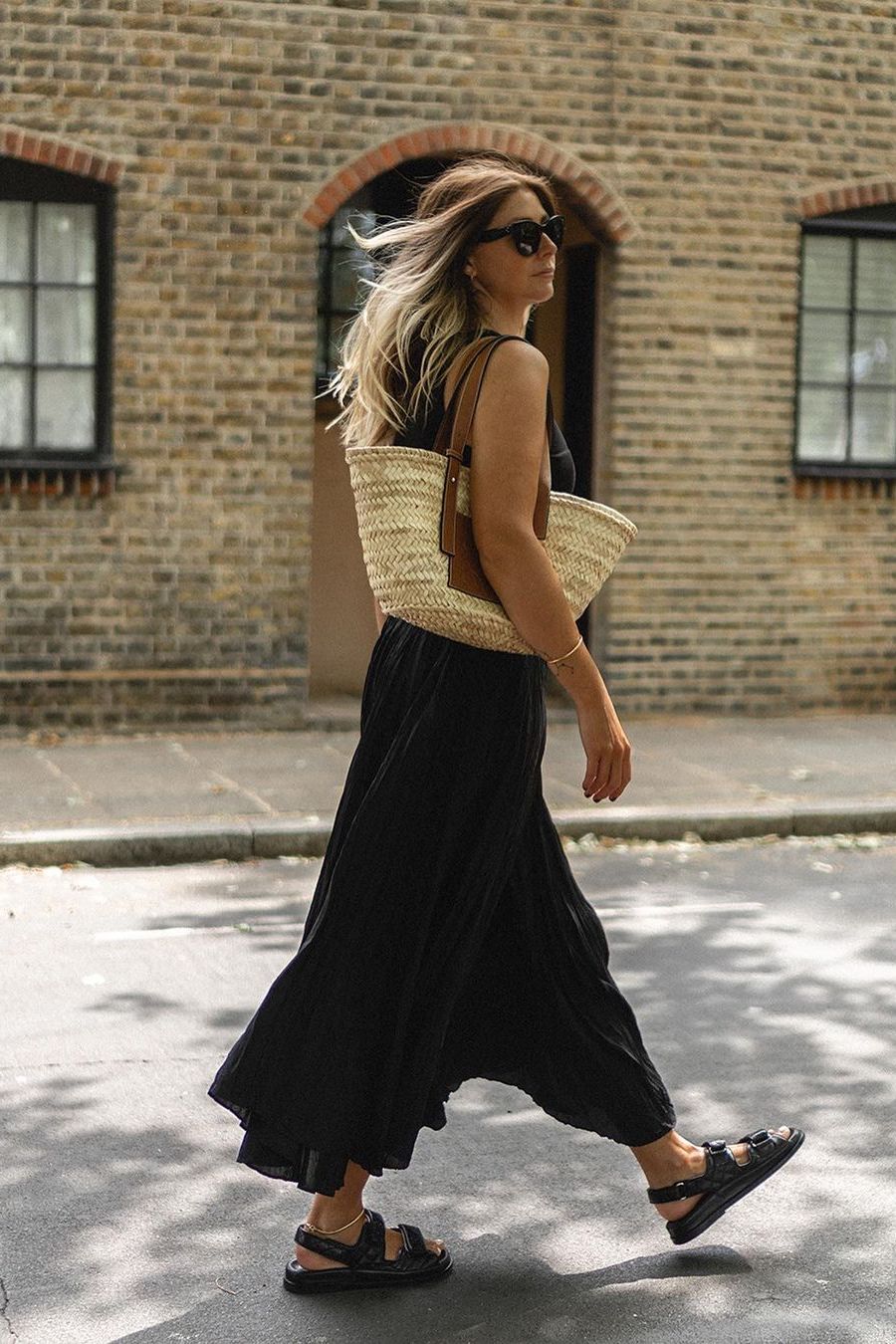 This season's most covetable sandals are a minimalist's dream. Chic yet endlessly wearable the dad-inspired sandals are the ultimate addition to any capsule wardrobe. Get that Scandinavian nonchalant look by pairing yours with a flowy summer dress and an oversized blazer or full linen suit. Put your hair up in a claw, either in a classic tortoise pattern or in a fun color to add playfulness to the look. Add personality to the outfit with your favorite jewelry pieces, and don't forget your signature scent.
5. Summer capsule wardrobe bag: Oversized straw-leather bag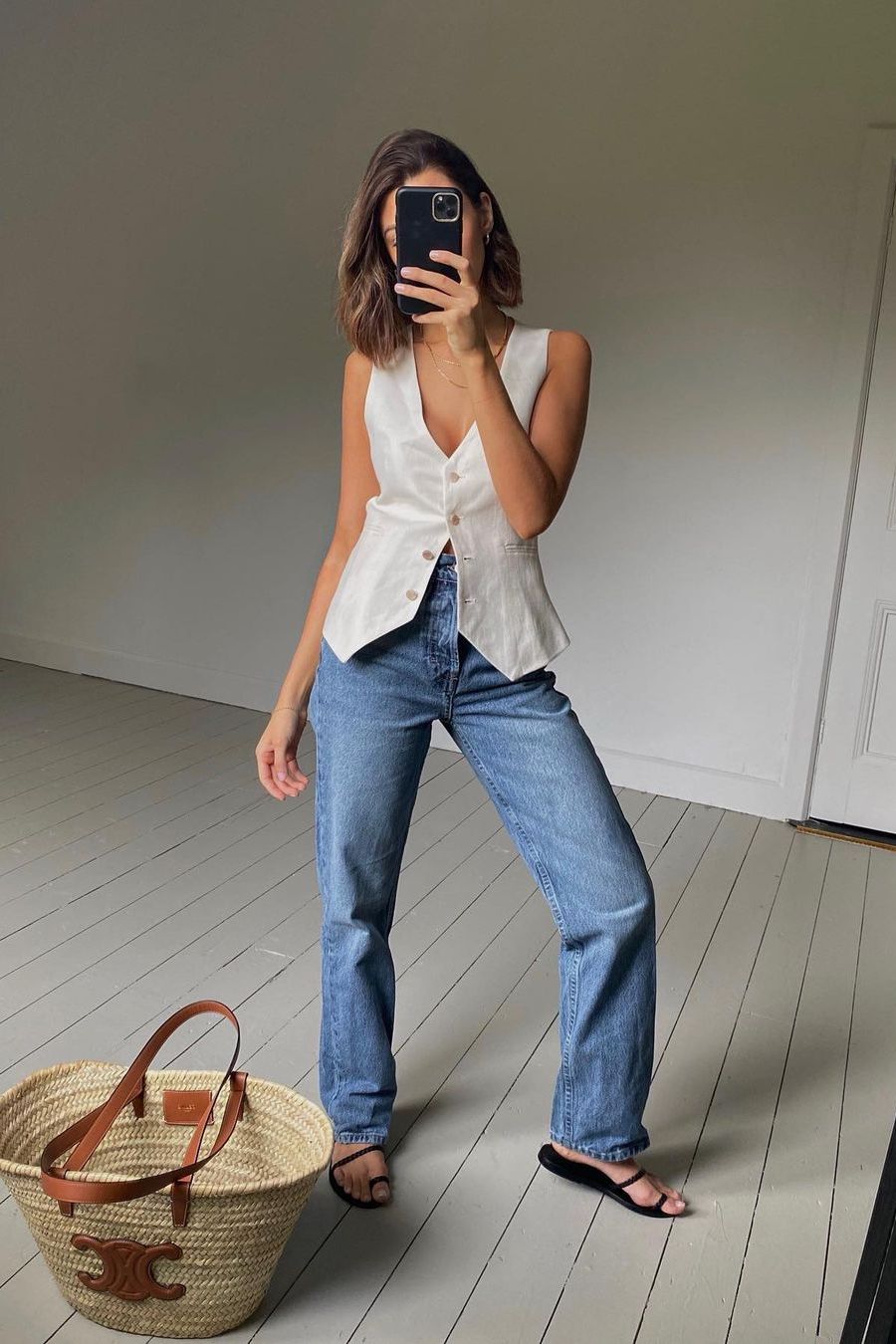 The oversized silhouette will make going to the beach the most stylish event of the year. If sandy beaches it's not your thing, then feel free to take yours on a trip throughout the concrete jungle. The ones with the sleek leather top handles are perfect to maintain your elegant aesthetic. Spacious and lightweight, the straw bag is a star of the season and the perfect addition to a summer capsule wardrobe.
6: Summer capsule blazer: Linen or cotton oversized blazer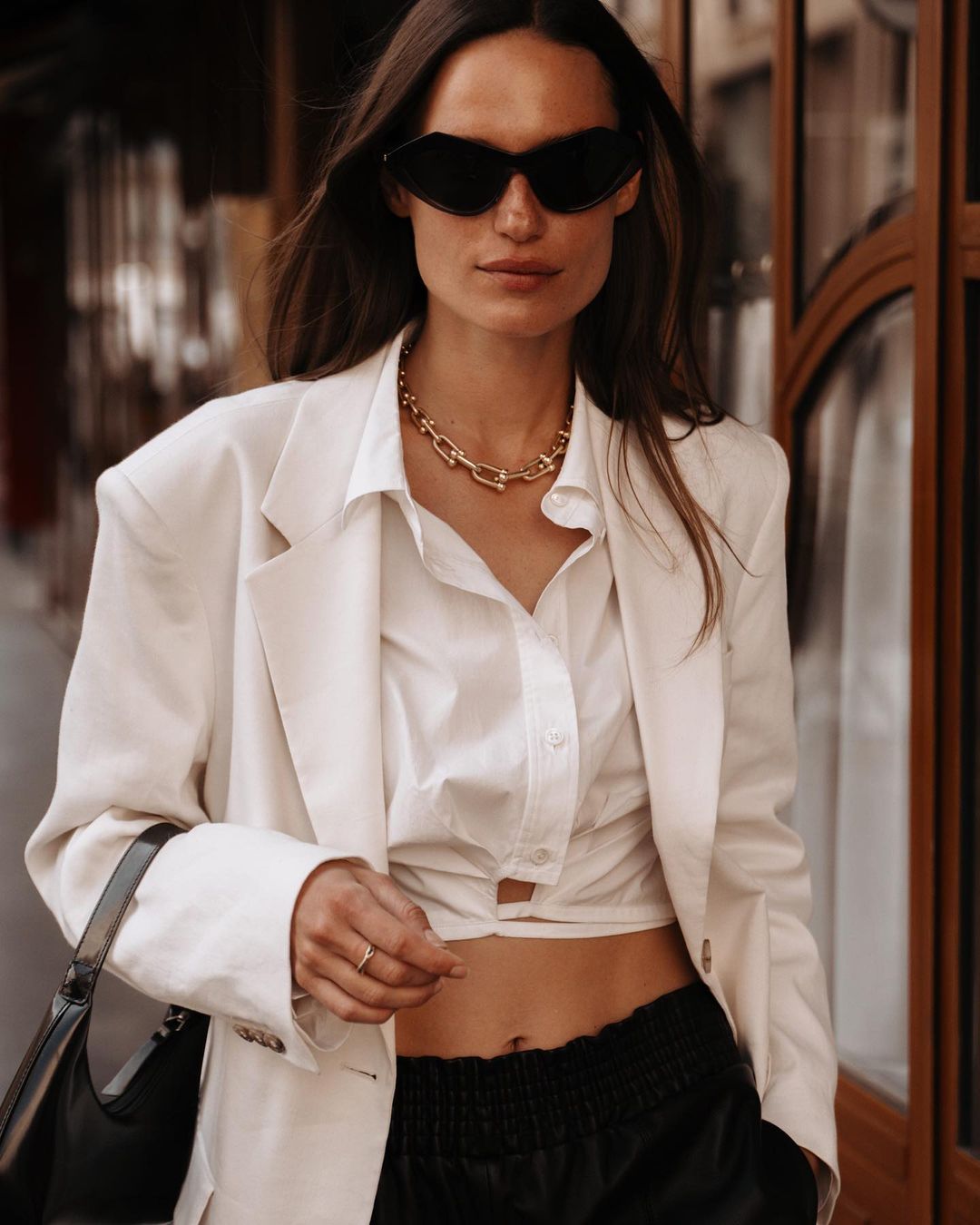 Linen and cotton blazer are sumptuously chic and perfect for chilly summer nights. For a luxe off-duty look trow it over everything. From matching separates and fresh sneakers to silk slip dress and sleek sandals, the oversized blazer is a perfect wardrobe basic for a summer night spent around the city as it is for a relaxed airport aesthetic.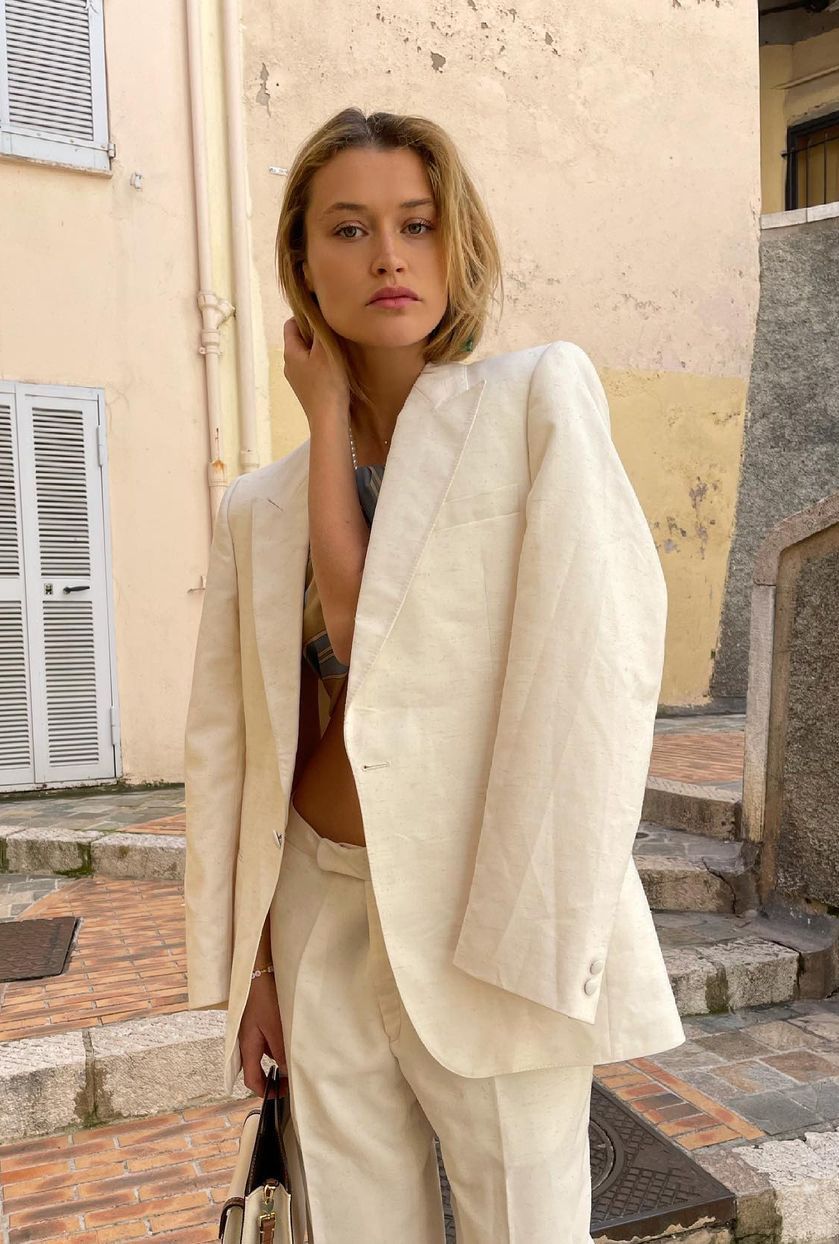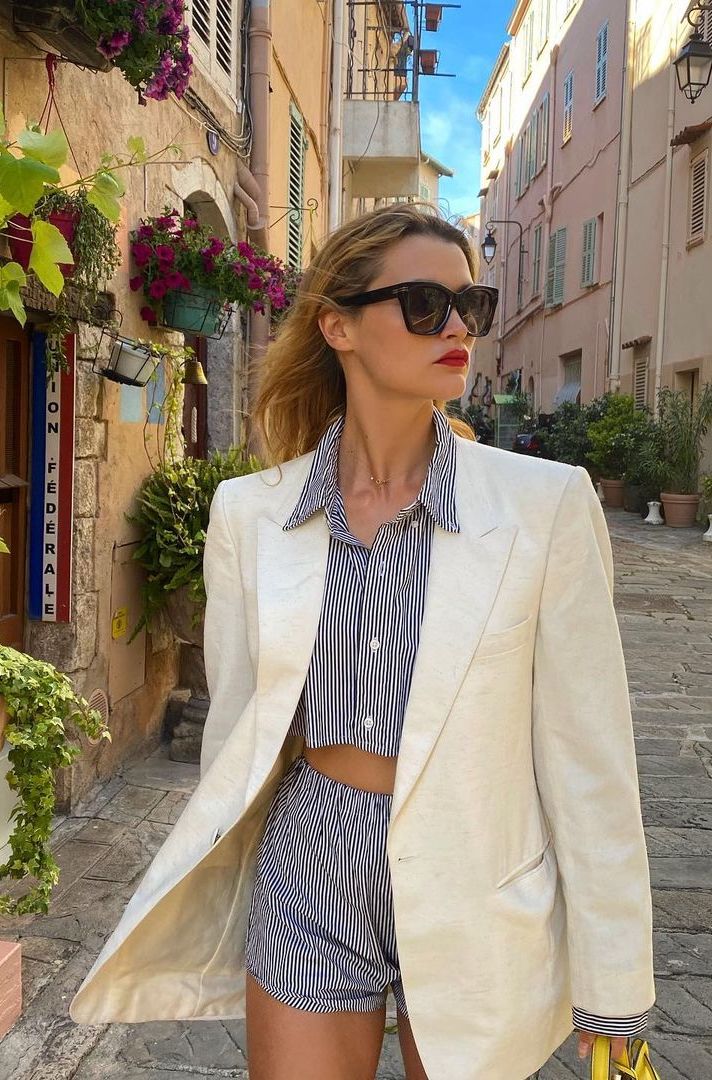 7. Summer capsule shorts: Linen shorts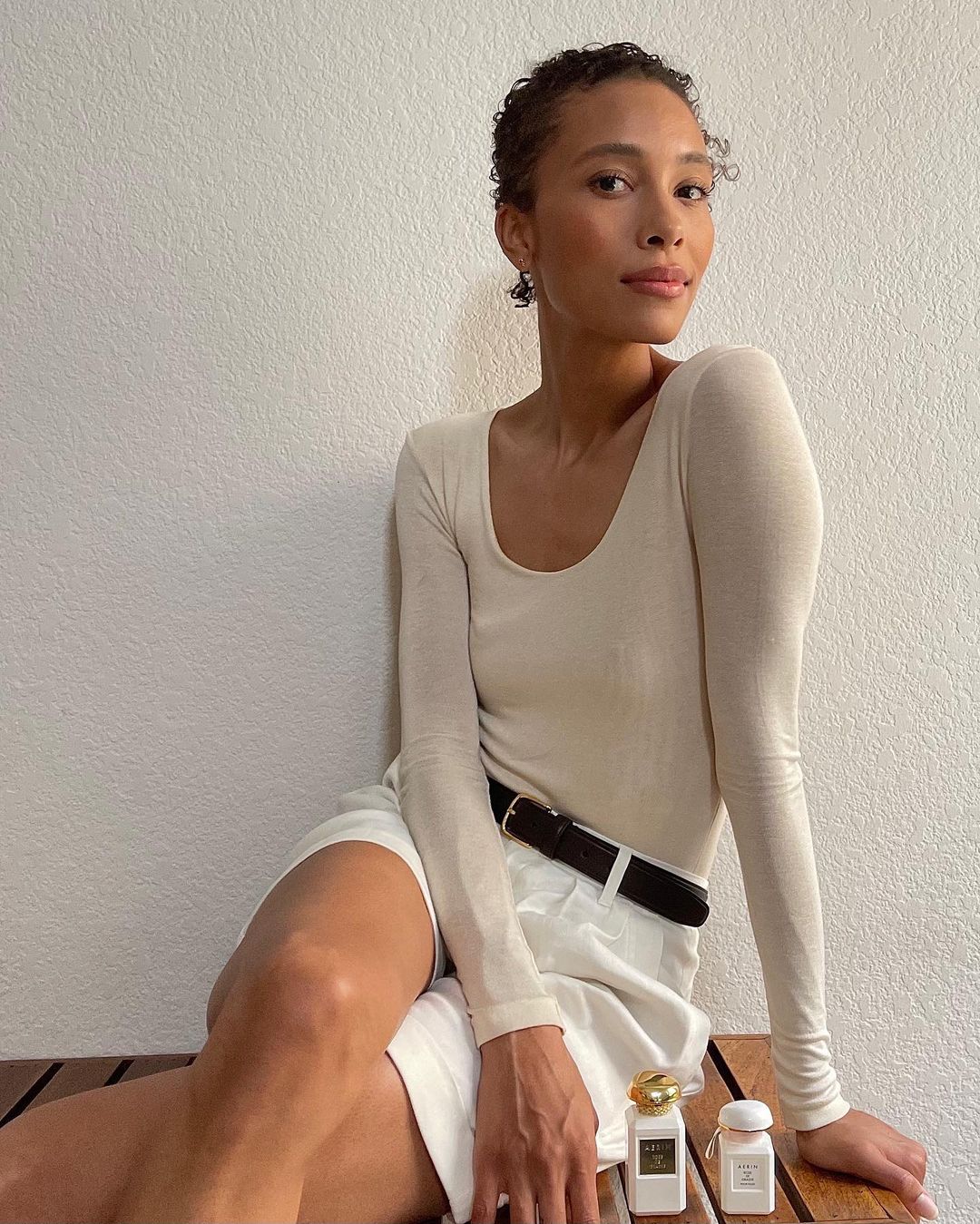 No fabric is more appropriate for the heat than linen, making the linen shorts an absolute must-have for any women's summer wardrobe. An obvious pick with casual pieces or swimwear for beach days, seaside getaways or hours spent by the pool, the lightweight fabric can appear ultra-polished in the form of tailored shorts. Neutral tones like ivory, beige and black will be the most versatile buys for your wardrobe. To dress up yours, reach for luxe basics like a silk blouse, strappy sandals and a lot of jewelry for an effortless summer look.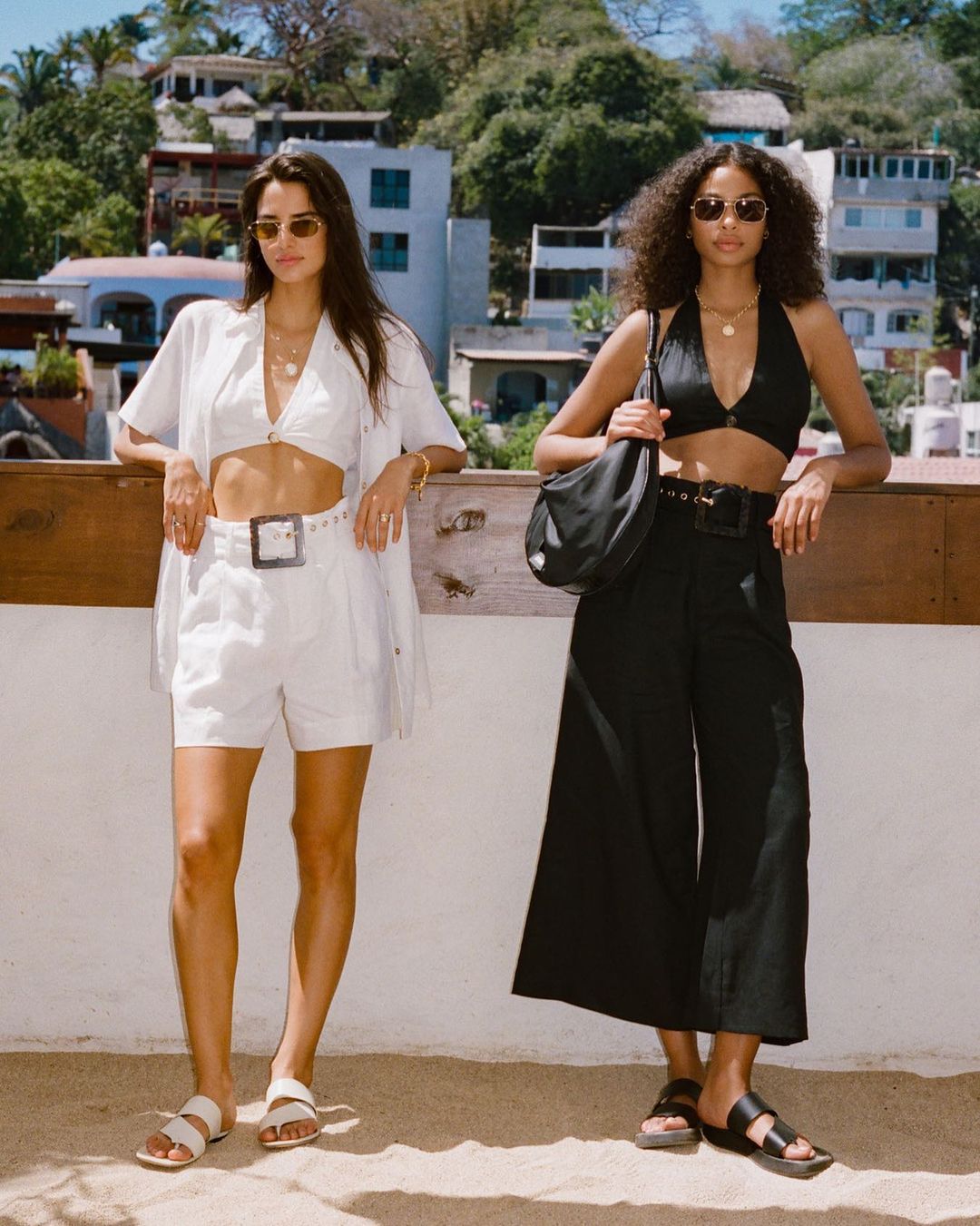 8. Summer capsule beach essential: Oversized button down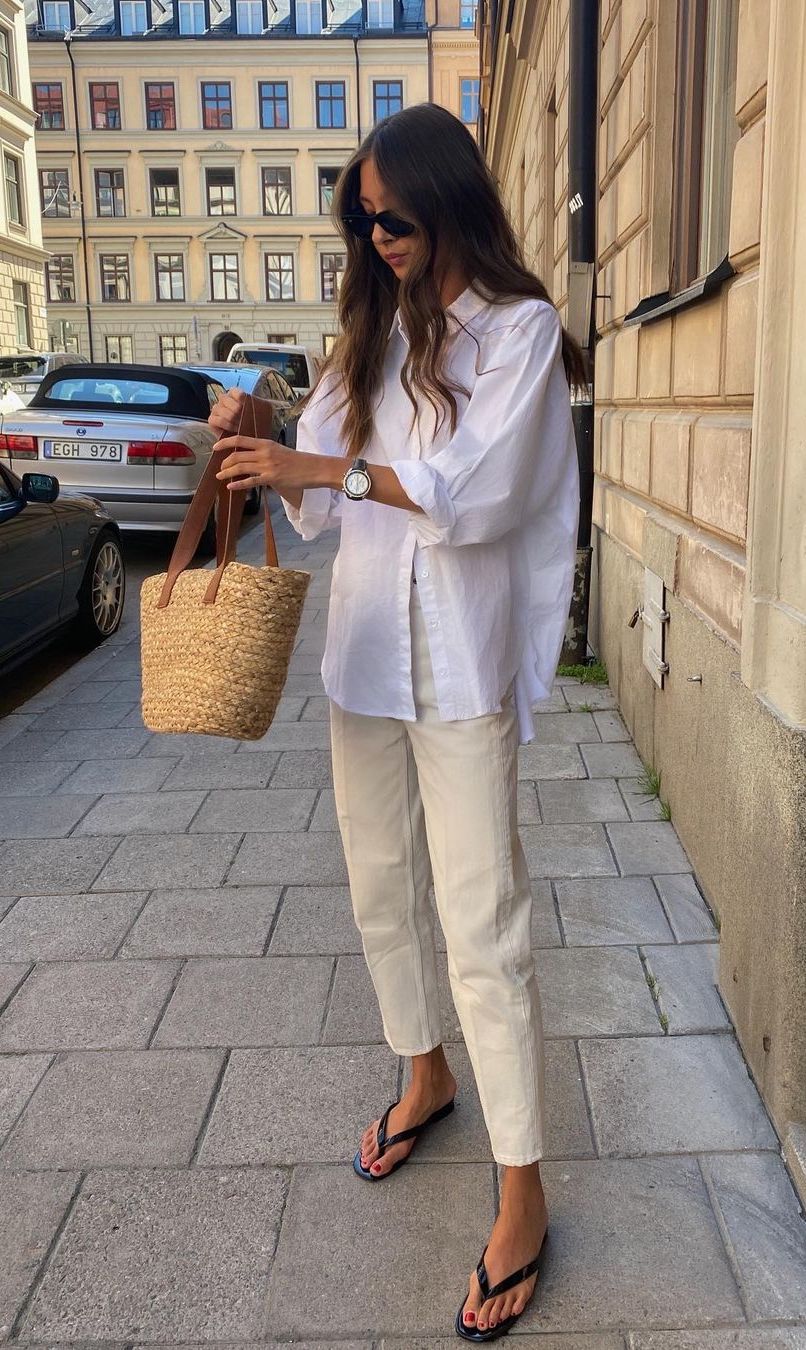 THE NEW SILHOUETTE OF THE SUMMER it's boxy, intended to be worn loosely, with a dropped shoulder, and typically rests right below the hips. Chic, yet cool the oversized button-down shirt is one of the backbones of modern summer wardrobes. As we place more demands for versatility on our day-to-day clothes, this true hero offers a relaxed vibe, versatility and elegance.
Keep your choice simple by opting for a clean, crisp look in natural color. Pair it over a bra-top bikini with linen trousers or shorts, a sleek black leather sandal, and bold rectangular sunglasses for an effortlessly cool finish and you're ready for the beach and beyond!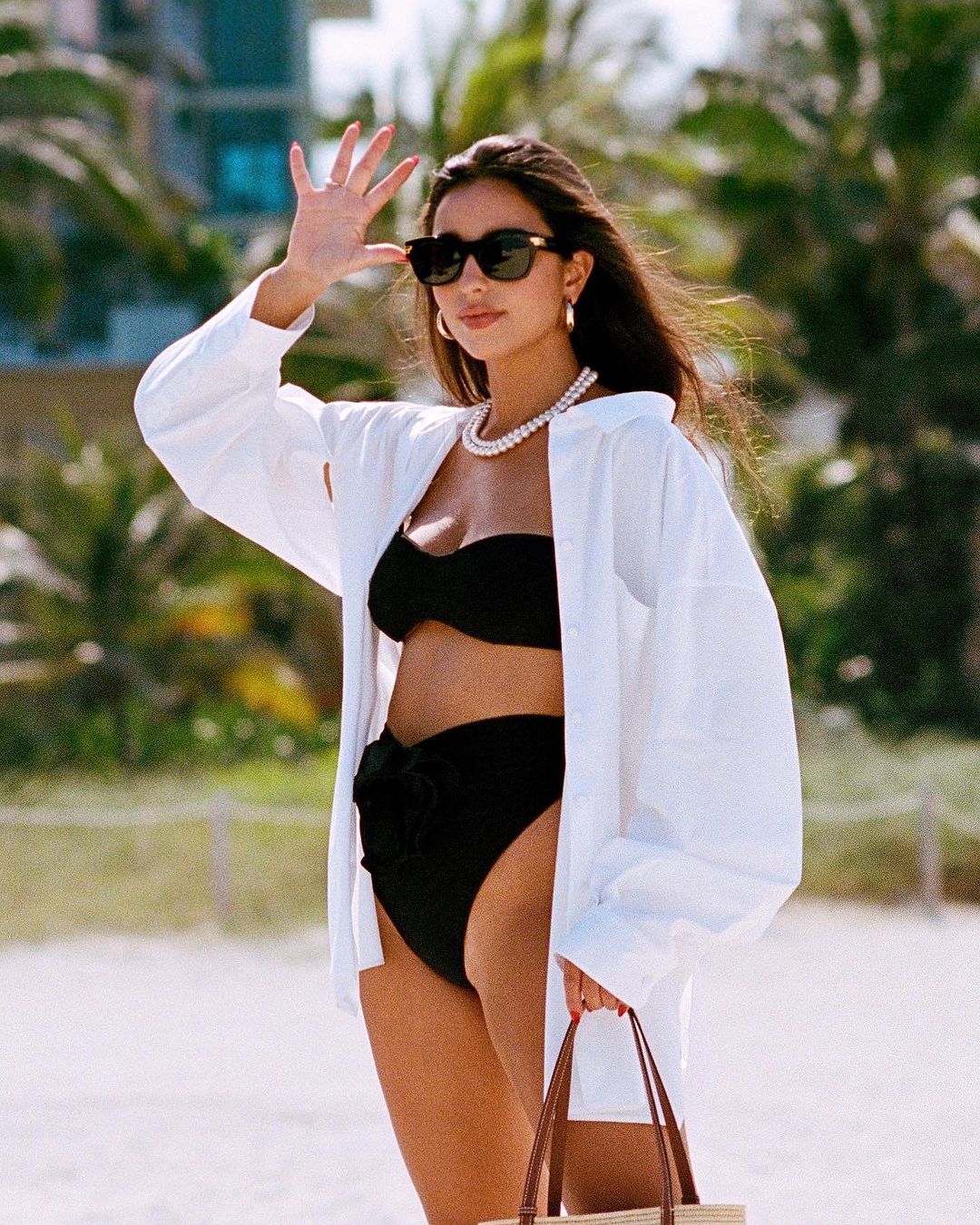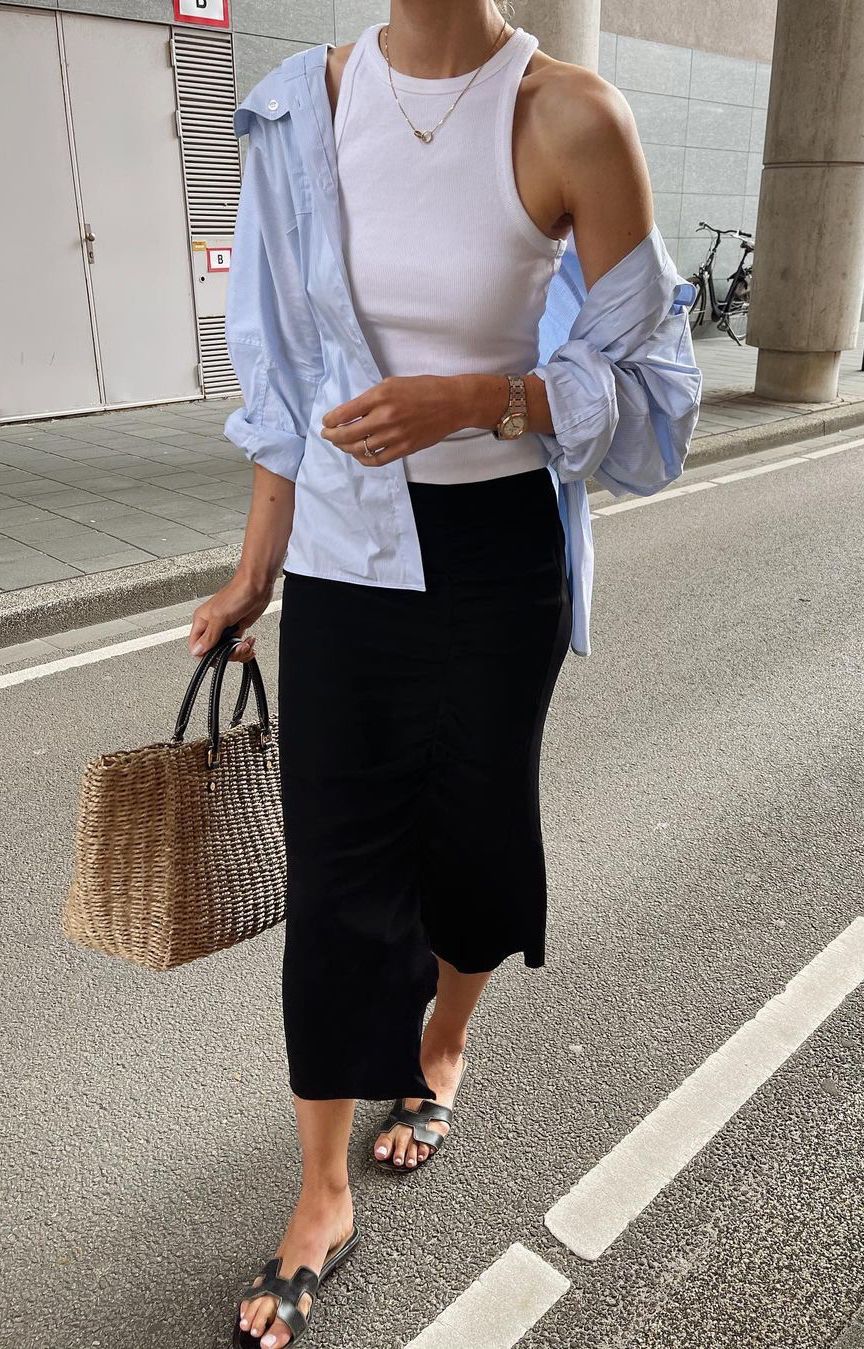 9. Summer capsule dress: Linen sundress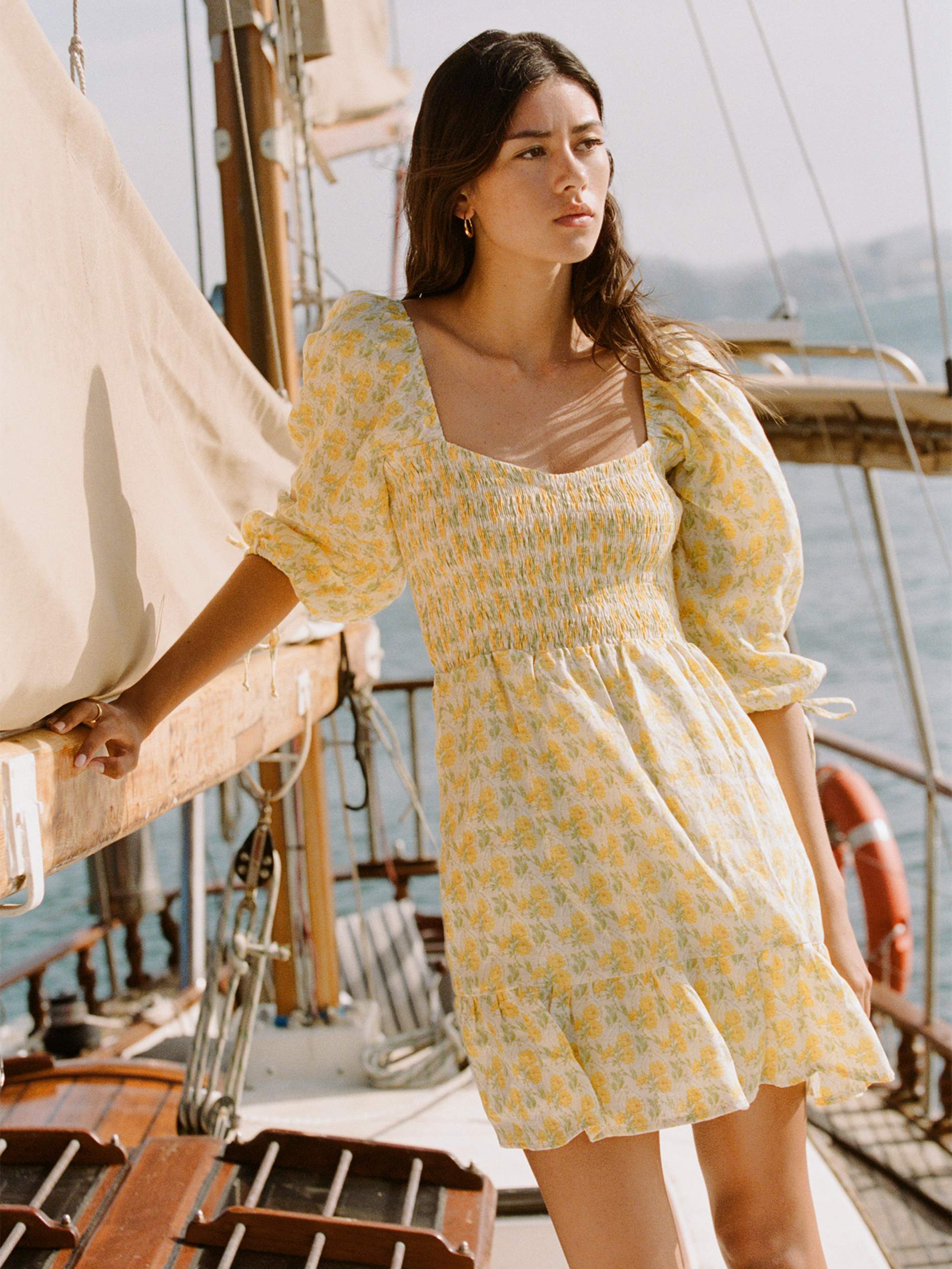 Perhaps our favorite this season is the fun linen sundress. We are talking about a figure-flattering, trophy piece that is perfect for both daytime and evening. If you are minimalists who rarely shy away from neutrals but still you've wanted to dabble in color, opt for a sundress in a pale yellow or green for a romantic, feminine feel. It's close enough to off-white making it the perfect match for sun-kissed skin, barely-there sandals and statement earrings are all you need for an insouciant after-dark look.