We can't help but champion a classic white-and-navy palette for truly timeless style, this time in form of oversized Breton stripe sweaters. They operate in almost the same capacity as your regular sweater, but they offer a slightly more chic "French-girl" take while building a strong foundation of wardrobe basics. Is the ultimate simple, yet versatile, garment to add to your wardrobe that will transcend trends—and seasons. Yes, no wardrobe is complete without a Breton stripe sweater, but even this classic item gets an upgrade from time to time. Here, our top chic Breton stripe sweater outfit picks and silhouettes to inspire you this season.
Leather shorts + Breton sweater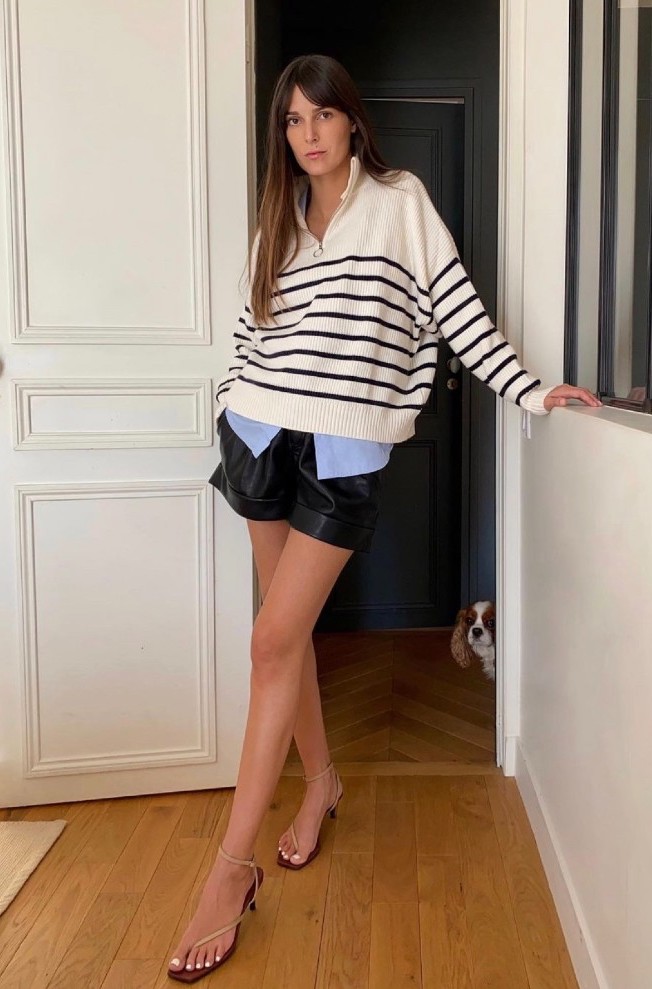 Leather shorts are a beloved staple, but there's no chicer way to master the look of "French girl" than with a striped knit and pair of strappy sandals. For an extra dose of polish, throw a blue oversized button-down in the mix, and finish with a sleek pair of sunglasses and classic handbag in a tonal hue.
Cozy Silk Skirt and Breton Stripe Sweater Outfit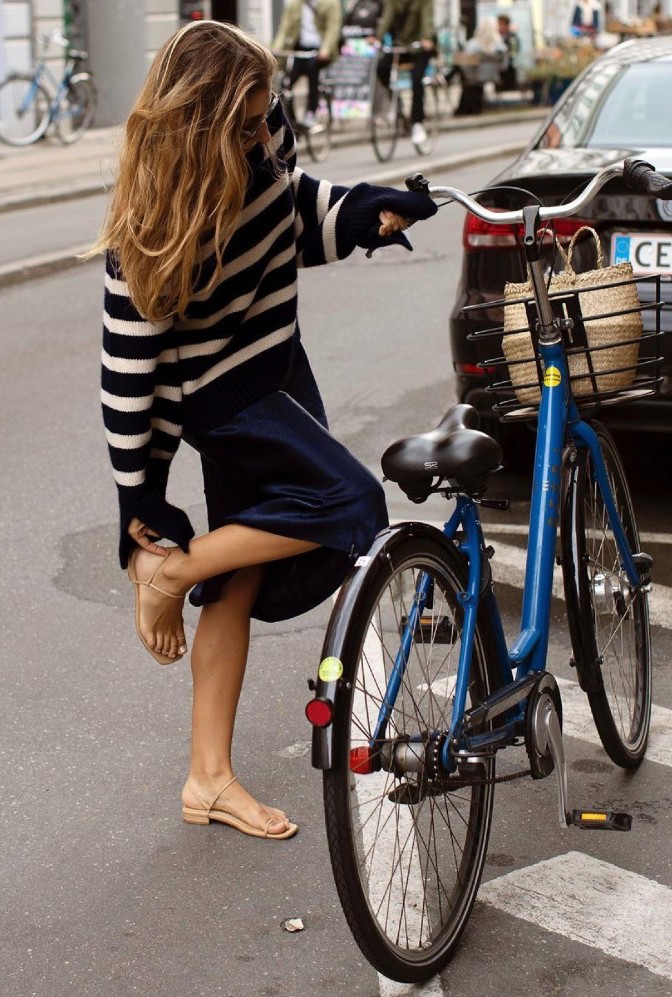 Whether on vacation, at work or simply going about everyday life, the silk slip skirt is undoubtedly a wardrobe staple for most come the summer months. The slight elegant touch of the silk and the subtle sensual nature of white and navy knit make this look a timeless go-to outfit that will transform your farmer market visits into a fashion magazine-worthy situation. Pair with your favorite white sneakers for a casual daytime outfit spent on your bike or add a sleek strappy heel for the chic going-out ensemble.
Breton Sweater Transitioning Outfit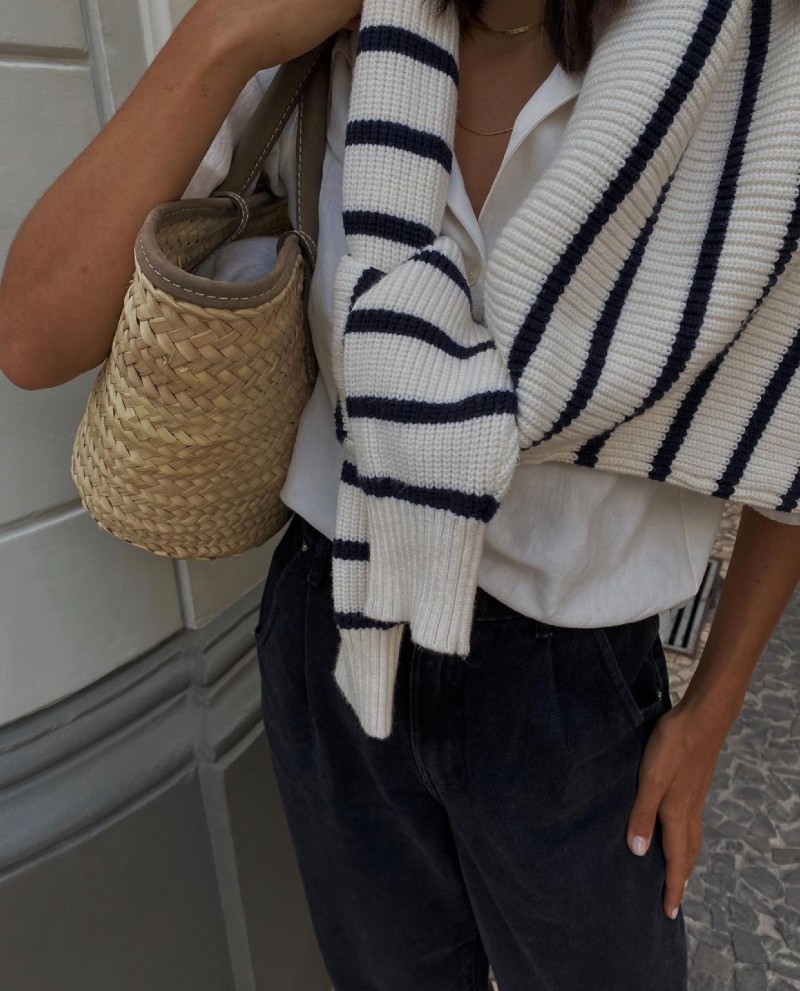 As chilly weather is coming quickly upon us, finding the perfect transitioning outfit can be a feat that may seem daunting to even the most experienced shopping experts. The effortless style and neutral pallets are perfect for deflecting the colder temperatures while never having to sacrifice on style. The mix of simple black trousers and striped sweater with elegant pieces like kitten heel sandal and basket bag it's a forever chic look that will be in your wardrobe rotation for years to come.
Everyday Chic: Breton Stripe Sweater Outfit + Jeans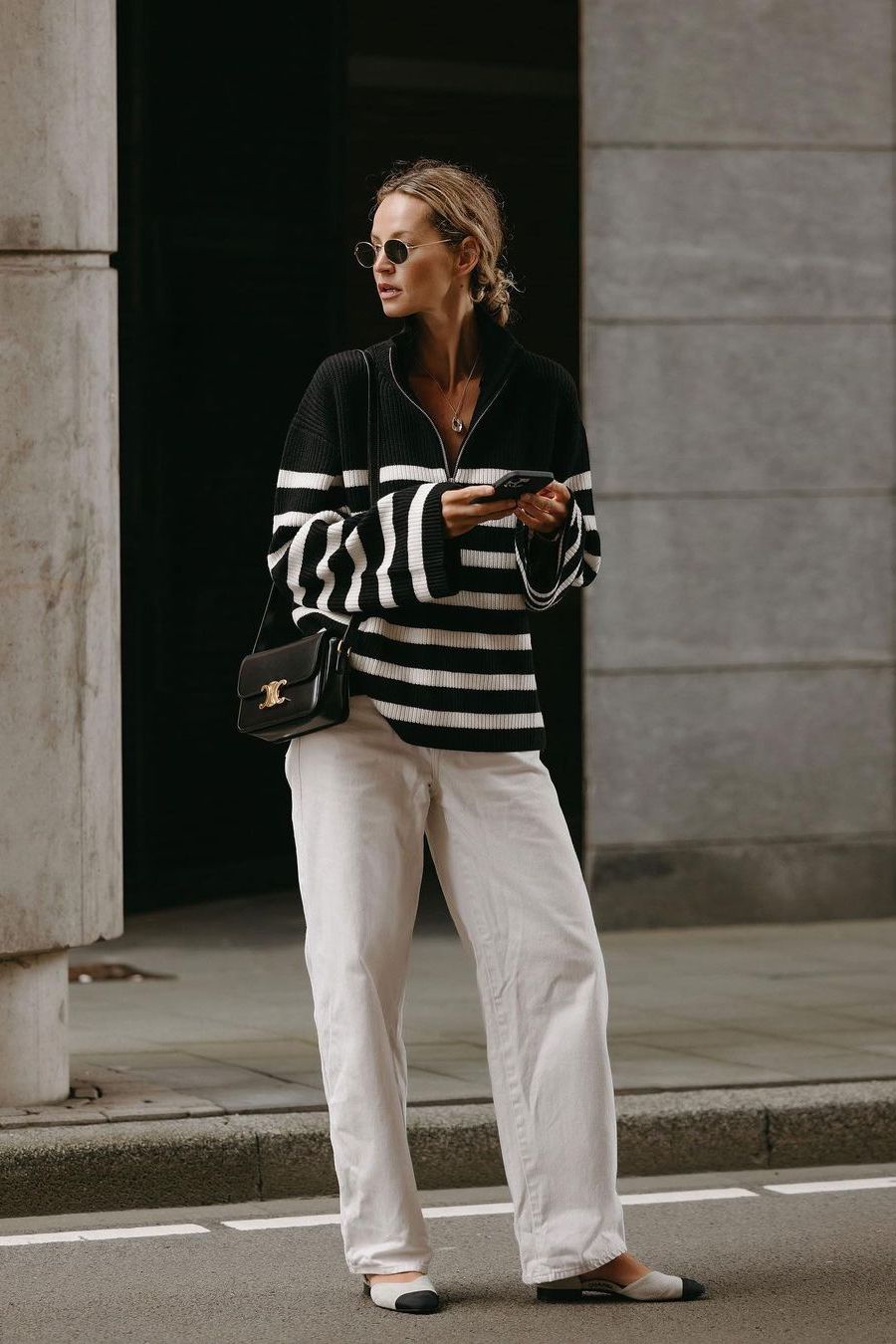 Breton stripe sweater and pair of jeans are an ideal everyday option. To catch season's smart-yet-casual aesthetic choose oversized baggy silhouettes, and wear them with chic leather accessories and come fall, throw a tailored wool coat to the mix.